This website will be reborn this winter. See my current work here:
Monumental history mural: "Ukiah Valley - Past, Present & Future"
Let me show you the career crown jewel, monumental project that has given me the gift of hot summer for three years and contains over one-hundred portraits so far!

And for the urgent, rewarding, creative sewing project that arose from the pandemic:
"Comfort and beauty while you shelter your face"
The Sea Ranch archival print
The Sea Ranch, Sonoma county's beautiful and historic land development, portrayed in a panoramic view with folk art style.

LAUREN SINNOTT

FINE ARTIST

AND MAYOR
Recent: The New Yorke magazine's Eustace Tilley Contest entry, in the Face Card Lifestyle Series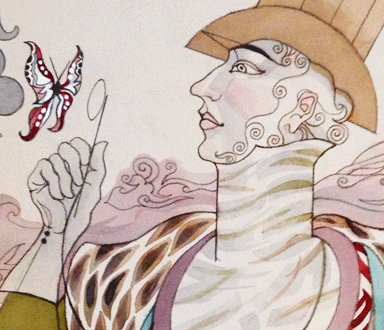 RETURN POLICY
Portraiture is the backbone of the decor of a civilized modern Renaissance home, California-style here...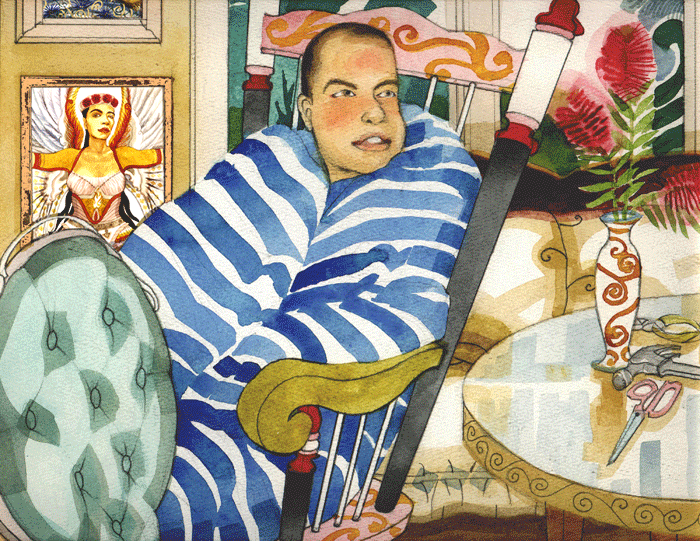 My new work is several Face Card Collections
The first of all of them was the small Queen of Hearts at right.

ORIGINAL watercolor and pencil on paper, 6" x 8" - $200

Then came individual portraits in the suit of the sitter's choice.

The next generation populates the Face Card Lifestyle Series, beginning with the Queen of Diamonds Paying Bills and the Queen of Spades Watching Masterpiece Theater.

Details below of Andreas and his mother Katy, the Queen of Clubs (left) and Ian as the Jack of Diamonds (right)

If you wish to immortalize yourself or your loved ones as Kings, Queens and Jacks of the four suits, let me know.

Some original offerings from the Artgoddess website:
MURALS

& SIGNS

NOTECARDS, T-SHIRTS

& LETTERPRESS PRINTS
including

BREASTFEEDING ART

FINE ART

THE VELVET VULVA

Unique fine art purses,

purposeful bags,

& framed miniatures
TO ORDER, send me an e-mail, write or call. We can discuss what you want and tailor my product to your desires.
TO PAY, either:
Make checks or money order out to Lauren Sinnott/Artgoddess and send to the address below.
Or if you want to pay by major credit card, communicate with me by:
email: lauren@artgoddess.com
snail: P. O. Box 921 Point Arena, CA 95468
phone: (707) 882-3100
After I have confirmed your order and given you your total (including applicable tax and shipping), I will charge your MC, VISA or DISCOVER CARD. (Your statement will list the charge as originating from ARTGODDESS.)
RETURN POLICY
Here at Artgoddess, we want to make sure that you are completely satisfied with your purchase. If, for any reason, you are not satisfied with your order, you may return your item within ten (10) business days from the date of delivery. Upon receipt of the returned item, I will either:
1. Create another piece conforming to your order specifications and addressing the reason for your original return.
2. Or return your payment.
In either case, your complete satisfaction is our goal!
---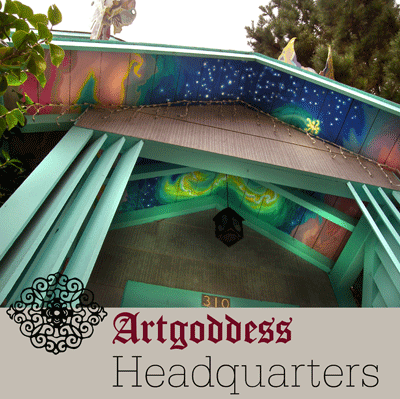 Copyright © Lauren Sinnott 2020